19 Nov 2020
Blackpool Cataract and Surgical Centre treats 1,000th Patient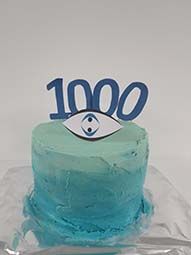 Since opening the doors to our new CHEC Cataract and Surgical Centre in Blackpool last February, we have been proud to serve our local community in providing low waiting times and high-quality eye care for our patients- as well as hearing about the positive difference that eye care treatment is making to the day to day lives of our patients.
On Thursday 12th November, CHEC was delighted to celebrate another fantastic achievement with their Blackpool team as Judith Slater was welcomed to the hospital for cataract surgery, marking the treatment of Blackpool's 1,000th patient.
When describing this milestone, Jen Rottier, Deputy Hospital Manager at Blackpool Cataract & Surgical Centre said:
''My entire team continue to impress me every single day. Reaching our 1000th patient within 9 months of opening truly is a testament to their continuous hard work, enthusiasm and care towards every patient, especially now during these pressing times''
Upon arriving at CHEC Blackpool for her cataract surgery, Judith received a special "1,000th patient" cake, freshly baked by a member of the team. Speaking of her experience, Judith said:
"Absolutely fantastic! All of the staff were so friendly and welcoming, which put me at ease for my surgery. I was very impressed by the service and it was lovely to be treated as your 1,000th patient".
Congratulations to Judith and the Blackpool Team!