11 Aug 2021
Bringing nature to the cities of the world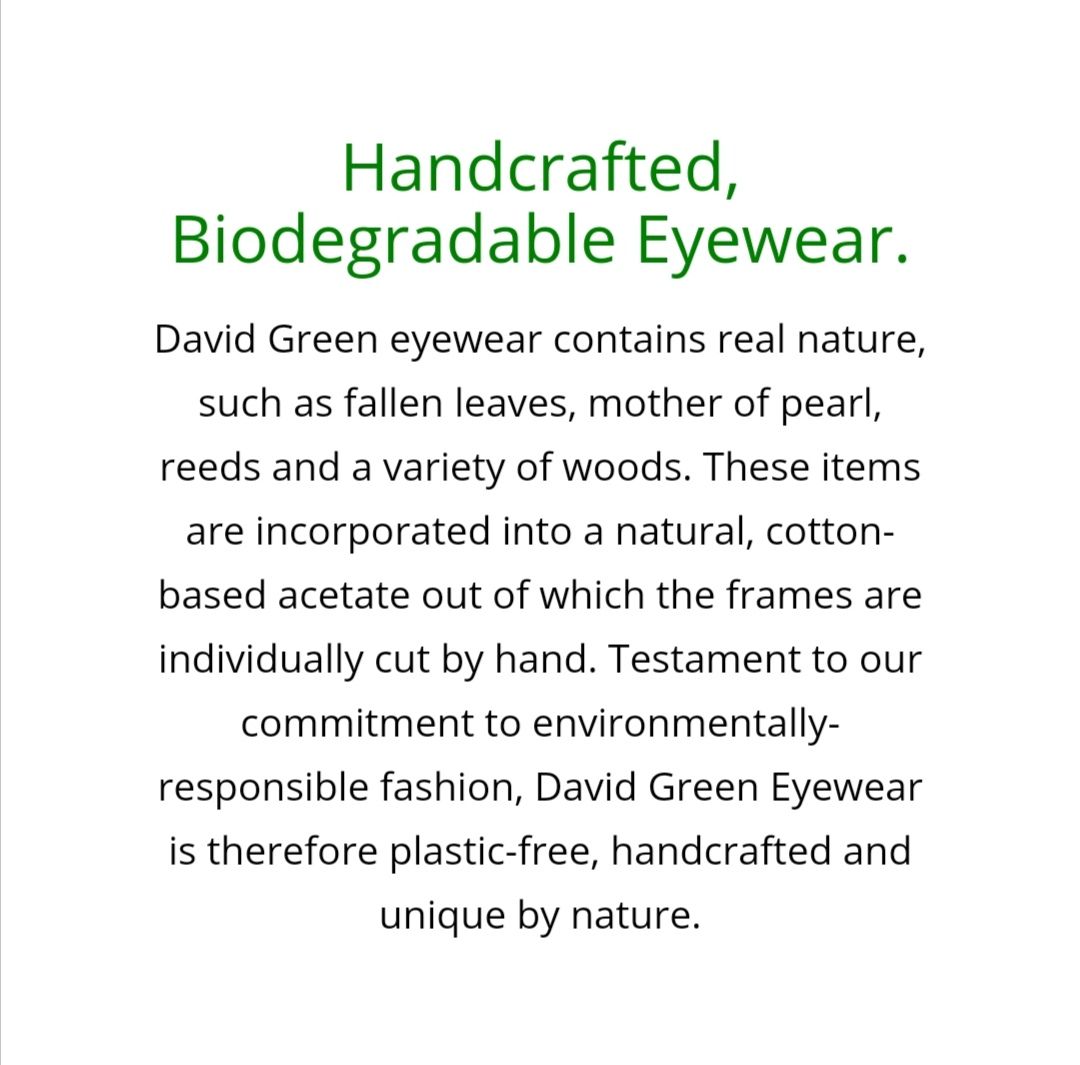 Established in 2006, David Green Eyewear is situated in Cape Town – the 2014 International Design Capital of the World. Headed by designer and entrepreneur, David Green, Thegreencompany produces eyewear that is unique, stylish – and eco-friendly. David Green has applied his keen eye for detail, his background in engineering, and a passion for the environment to launch products that contain real nature – a totally unique concept in which foraged tree leaves are dried, dyed, set inside a natural, cotton-based acetate and skillfully hand-crafted. Other natural materials used include reeds and real mother of pearl and cork. The result is stylish, unique eyewear that is essentially designed by nature.
David Green's purpose in life is to bring nature to the cities of the world. In keeping with their commitment to assess the impact of every element they use, thegreencompany sources materials according to strictly prescribed green criteria. Natural materials are used wherever possible throughout this process. Thegreencompany has recently taken a further step towards complete sustainability by introducing a fold-able case for the eyewear. These stylish cases are attractive, yet durable, and when packed in their flat form, take up less space during transportation, reducing the carbon footprint and remaining true to the concept of "unique by nature".
David Green Eyewear has been acclaimed at international eyewear shows in New York, Las Vegas, London, Birmingham, Milan and Munich. In 2017, A David Green frame was selected worldwide for St Patricks Day and his frames are currently shortlisted for awards in United Kingdom. David Green's creations are currently available in over thirty countries and the name is rapidly gaining a loyal international following due to the unique and innovative concept of this one-of-a-kind eyewear.
Please visit www.greeneyewear.com for further information.
https://vimeo.com/579543631