Four Reasons to Visit Stand E120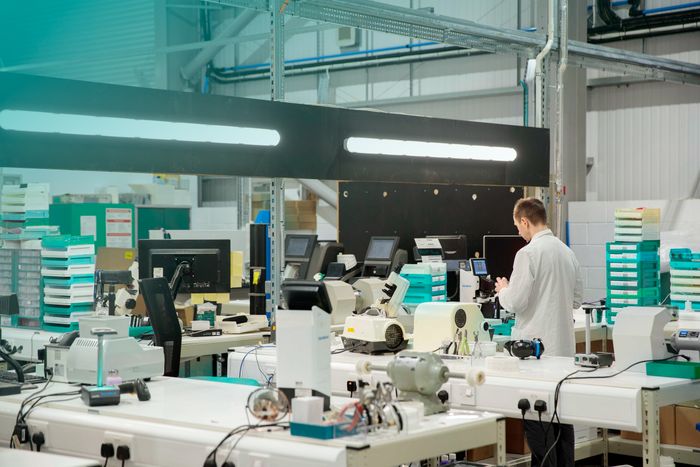 Four reasons to visit Caledonian Optical at 100% Optical The UK's largest optical event is fast approaching, and the team from Caledonian Optical, can't wait to catch up with other exhibitors and delegates, as well as see the latest frames on the catwalk, and hear more about the future of the industry. We'll be exhibiting on Stand B310 and we'd love to meet you there! If you're still organising your itinerary for the busy weekend, then check out these four reasons to visit us.
Check out our new lab
Following an investment of £1.5 million into a new laboratory, we've tripled our current capacity, allowing us to increase the volume of high-tech lenses being manufactured.
Now based in Dyce, close to Aberdeen International Airport, the new site offers the very latest equipment for manufacturing bespoke digital lenses for our customers across the UK – and we'll be showing it all off with the use of some VR technology at the stand.
That's right, we'll be inviting stand visitors to pop some VR headsets on and take a virtual tour of our new lab (without getting on a plane!). You can check out the facilities and learn more about the equipment used, all from the Excel in London.
Chat with IOT
As well as finding out more during your virtual walk-around, we'll also have members of the team from IOT, our digital lens design partner, on hand to share a little more about the technology used in our latest range of products.
As creators of state-of-the-art, ultra-high-quality lenses, they'll be available on the stand to take your questions and share more information about the range of products we work on together from single vision to occupational, blue filter and progressive range as well.
As our trusted design partner, the technology being applied is the next evolution for digital lenses, and something we're really proud to partner with IOT on.
Meet the newest members of the team
Aligned to our growth plans, we have also recently appointed a new product development manager, Gillian Sibeth, who will be at 100% Optical alongside other members of the team.
Bringing more than 25 years of experience in the optical sector, Gillian will support the manufacturing arm of the business, with a real focus on client experience and finding solutions to meet their customer's visual needs.
Stay tuned for more information, but please come down and meet both new and familiar faces including Head of Manufacturing, Mark Robertson.
Enjoy the very best of Scottish hospitality
And if that's not already convinced you, then rest assured our great big Scottish welcome certainly should! Proud of our roots in Aberdeen, we'll be offering the very best in Scottish hospitality, including lots of delicious Scottish treats to enjoy with a dram or a glass of fizz.
Slàinte Mhath! (Cheers!)
So please, come visit us on Stand B310, meet some of our team, and find out a little more about all the exciting developments at Caledonian Optical this year.
However, we should warn you that whisky and VR might not leave you seeing too clearly…!