Ampere - Dusk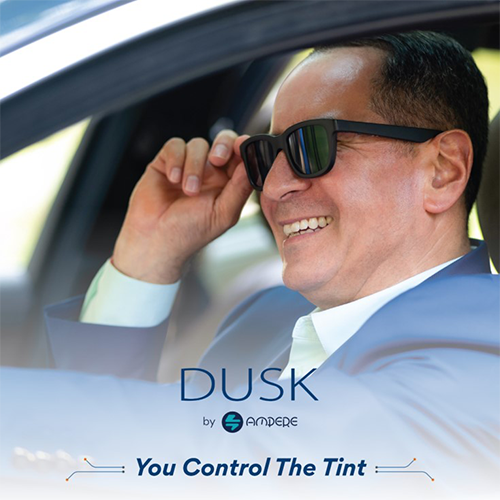 BRAND - Ampere
PRODUCT NAME - Dusk
With the launch of Dusk in May 2021, Ampere introduced the world to a new category of sunglasseselectrochromic tint-adjustable sunglasses. Unlike traditional photochromic lenses, Dusk electrochromic sunglasses allow the wearer to adjust the tint instantly using a button on the frame or via the Ampere app.
Fashion was not ignored for the sake of function. Ampere's Dusk do not look like ordinary smart sunglasses. Instead, they have a clean, modern aesthetic. As described by Digital Trends, The good news is that these are still good-looking sunglasses, even with all of the technology packed into them. And there is a lot of technology packed into them. Dusk also houses speakers and microphones, allowing the user to listen to music, take calls and summon voice assistants. The Ampere app allows users to customize the audio EQ levels, buzz their lost glasses, and create their own tint shortcuts.
Dusk is currently offered in audio and non-audio versions. Users can also select from two colourways and two different lenses smoke and mirrored. Ampere will be releasing a selection of new Dusk glasses in early 2023. The new frames include two new sports frames and four new frames designed for prescription lenses. All new Dusk frames come with Ampere patent-pending InstaOptic technology. From the Ampere app, users can select how dark the lenses go, how light they go, how sensitive the lenses are to light, and even how long it takes to switch between tint levels. Like the original Dusk, all new frames designed by Ampere are fashion-forward. Dusk sunglasses offer a modern techy spin on traditional glasses designs. The Dusk lenses bring true innovation to the glasses space while the designs appeal to tech enthusiasts and more conservative glasses wearers alike.
Categories
Eyewear Accessory of the Year