FEB31st - ANNA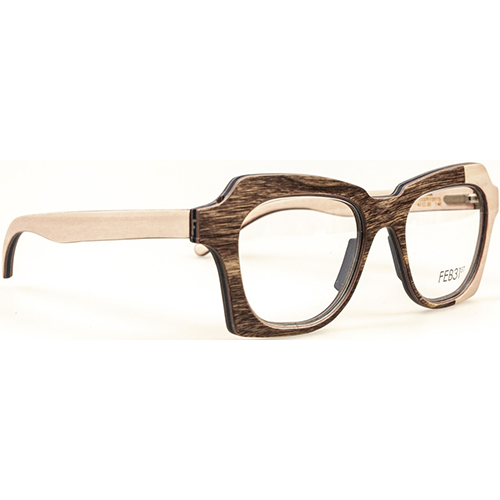 BRAND - FEB31st
PRODUCT NAME - Anna
Bold dramatic styling with an asymmetric colour block opposed by the light subtle colours of the contrasting wood grain are the features of our entry for Women's frame of the year ANNA'.
The idea for this design was to play with the differences between bold shapes, rich wood grains tones and delicate colour ways.
We wanted to explore the possibility of taking one of our favourite wood finishes Arborico' know for its contrasting tight knitting wood grain and almost grooved appearance and mix it with blocks of colour in very pale pink tones. To enhance this process further we have inverted the colour ways on the temples so that the light pink colour block on the left side of the frame front sits alongside an Arborico external left temple with the opposite colour way on the right temple.
For the rear surface we chose a dramatic dark navy and brought the whole design together by sandwiching a navy strip between Arborico for the internal layers.
It's fair to say ANNA' is a contradiction between bold and light and we love it.
ANNA is manufactured in the usually FEB31st way, with zero waste, fully sustainable using fsc approved wood from controlled plantations only. it is also available like all FEB31st frames fully bespoke, made to order in an unlimited choose of colourways and design customisation options.
Categories
Women's Frame of the year​