Roald Dahl – RD-23-C2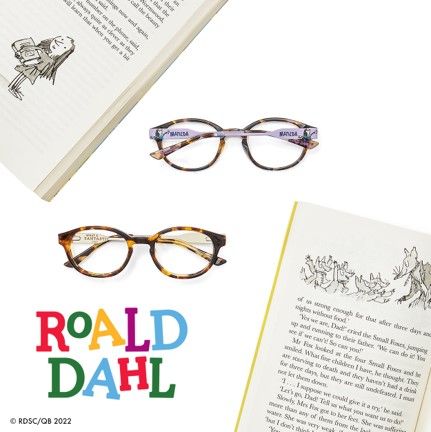 BRAND - ROALD DAHL
PRODUCT NAME - RD-23-C2
With critically acclaimed Matilda hitting both screen and stage for 2022 it only seemed fitting that we nominate RD-23-C2. Forming part of the ever-popular Roald Dahl eyewear collection, the range comprises 21 spectacular styles each accompanied by a bespoke Roald Dahl branded case and lens cloth.
Celebrating the story of Matilda, an extraordinary little girl with a magical mind discover RD-23, a miraculous mini me frame in Gutsy Lavender. Showcasing a splendiferous round eye shape, keyhole bridge and imaginative temples featuring child protagonist Matilda Woodworm. Bringing to life Roald Dahl's stories and Quentin Blake's character illustrations with an extra special connection, a hidden quote. Words went off like fireworks! the temple interior for the cheekiest of chiddlers eyes only! Children are at the heart of both Roald Dahl's stories and the frame design of RD-23. The bridge sizing has been kept narrow to fit underdeveloped bridges, the temples are acetate for adjustability and the top line is rounded to encourage the wearer to look through the lens.
Roald Dahl is a heritage brand with a huge breadth of stories, characters and worlds and an enormous brand following. RD-23 is certain to open up doors of opportunity for independent practices in the children's eyewear market. The world's number one storyteller, Roald Dahl was a spy, ace fighter pilot, chocolate historian and medical inventor - but his most famous endeavour was his storytelling, creating the internationally recognised and award-winning Roald Dahl brand that it is today. Roald Dahl once said, Those who don't believe in magic will never find it' perhaps they just need to take a look through the lens of RD23.
Categories
Kid's eyewear of the year