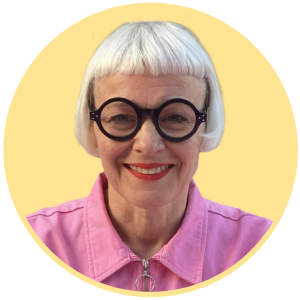 Morag Myerscough
Morag Myerscough, artist, born and bred London, UK, known globally for creating immersive structural installations characterised by boldness, vibrant colours and a high level of positive energy.
Morag's installations have a profound impact on public spaces, transcending the limitations of traditional approaches. Her vibrant and invigorating works disrupt existing architectural lines, introducing irregular shapes and colours and words. These interventions transform the landscape and create an engaging environment that inspires and uplifts individuals. By championing community and public interaction, Morag's installations encourage dialogue, enhance social cohesion, and create a lasting impression on the spaces they inhabit.
The core motivation behind her work is to bring people together, fostering joy, well-being, and a sense of community.
Morag Myerscough's innovative contributions to the field of art and design have been recognised through numerous accolades. 2023 Honorary Doctor Royal College of Art, 2020 Honorary Fellow Royal Institute of British Architects UK, 2019 Honorary Fellow University Arts London (UAL CSM) UK, 2019 Honorary Professorship University for the Creative Arts (UCA) UK, 2019 Honorary Doctorate Gloucester University UK, 2017 Royal Designer for Industry (RDI)2012 Honorary Fellow Arts University Bournemouth UK
These esteemed recognitions affirm Morag Myerscough's significant contributions to the field of art and her ability to positively impact communities.