24 Feb 2023
Complete eye-care solutions recommended by eye surgeons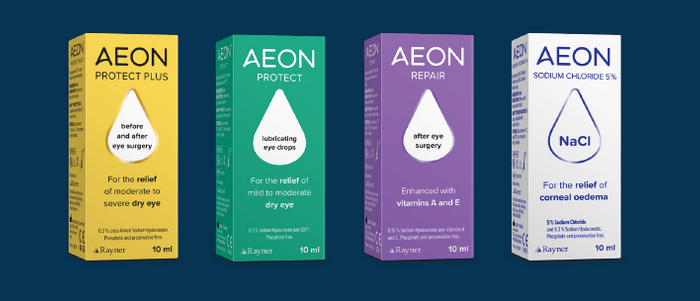 AEON eye drops introduced to 100% Optical.
Worthing-based Rayner, a global innovator in cataract and refractive surgery solutions and the only UK manufacturer of intraocular lenses (IOLs), announced today that they will be showcasing its premium eye drop range, AEON at 100% Optical
Rayner introduced AEON in 2019 to support visual outcomes and patient satisfaction around eye surgery. These eye drops also offer soothing relief from general dry eye symptoms.
Why AEON?
With 75% of cataract patients typically suffering with dry eye disease there is high demand for a quick, remedial solution. AEON eye drops are recommended by eye surgeons and are designed to help with ocular eye surface diseases before and after eye surgery.
Dry eye is a condition that alters the thickness and quality of the tear film, shifting the refractive power of the cornea by up to 2 dioptres and seriously affecting visual quality.2,3
Treatment with artificial tears prior to surgery improves the accuracy of IOL lens power calculation.
AEON PROTECT PLUS provides longer lasting eye lubrication for relief from moderate to severe dry eye with its clinically formulated 3% cross-linked sodium hyaluronate which supports elevated viscoelasticity. AEON REPAIR is enhanced with vitamins A and E, and offers relief for corneal ulcers and inflammation post-surgery. Both are preservative and phosphate free and are fully compatible with contact lenses for assured peace of mind.

Visit the Rayner stand L120 for more information on the full AEON range. Get access to the show promotions and see how cross-linked HA is different to linear HA.

To learn more about AEON eye drops, visit www.aeoneyedrops.com
For media enquiries, please contact Ko Lane (Marketing Manager): kolane@rayner.com

www.rayner.com/aeon

[ENDS]
About Rayner:
Since the implantation of the first Rayner intraocular lens by Sir Harold Ridley 1949, Rayner has continuously pioneered intraocular lens (IOL) design with the goal to improve vision and restore sight worldwide. Today, Rayner's mission remains to deliver innovative and clinically superior ophthalmic products that respond to the expectations of our global customers to improve the sight and quality of life of their patients.
Headquartered in Worthing, United Kingdom, Rayner markets its medical devices, pharmaceuticals, and digital solutions worldwide in over 80 countries through a network of distributors and includes direct sales teams in the United Kingdom, USA, Canada, India, Poland, Australia, Germany, Austria, Switzerland, France, Italy, Spain, and Portugal.

References: 1. EuroTimes Supplement February 2019: 'Diagnosing and Treating Ocular Surface Disease in Surgical Patients'. 2. EuroTimes Supplement February 2018: 'OcularSurface Disease'. 3.Tu
E.Cornea Day, ASCRS 2011.ograph regulations 4. Kim, J., Kim, M.K., Ha, Y. et al. Improved accuracy of intraocular lens power calculation by preoperative management of dry eye disease. BMC Ophthalmol 21, 364 (2021).