13 Feb 2023
Ocuco celebrates 30 years of engineering excellence at 100% Optical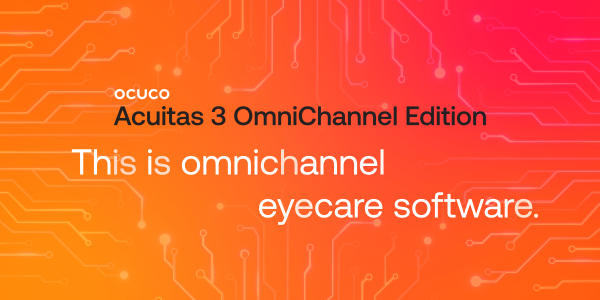 London, UK, February 2023, Ocuco, a leading supplier of practice management and omnichannel solutions to the global eyecare industry, will be celebrating two significant milestones at 100% Optical, 25-27 February. This year marks 30 years of Ocuco servicing the eyecare industry with innovative software solutions as well as the launch of Acuitas 3 OmniChannel Edition, Ocuco's next generation of eyecare software.
Acuitas 3 is an omnichannel-native application that enables a seamless and consistent online and in-person patient experience across all channels. A unified framework that allows appointment booking, purchasing, payment, communication and interaction online or in-store. A single view of the patient, a single view of your business.
As part of the launch of Acuitas 3, Ocuco's team will be running an invitation-only User Group Meeting for its existing customer base. The UGM will be an interactive session providing practices with the opportunity to shape the next generation of eyecare software. Ocuco will also be running demos of Acuitas 3 at Stand B130 throughout 100% Optical. Those interested in securing a demonstration of the software can pre-book an appointment by visiting www.ocuco.com/uk/tradeshows/
About Ocuco
Established in 1993 by CEO Leo Mac Canna, Ocuco is a leading provider of omnichannel solutions to the global eyecare retail, optometry, and lab markets worldwide. Ocuco's flagship products include Acuitas and Innovations. The Acuitas software suite includes Point of Sale, Practice Management, EHR and eCommerce software solutions for eyecare professionals. Innovations Enterprise, Ocuco's leading Lab Management solution, manages thousands of labs worldwide.