25 Nov 2022
REDEFINING THE PRESENT USING SUSTAINABLE METHODS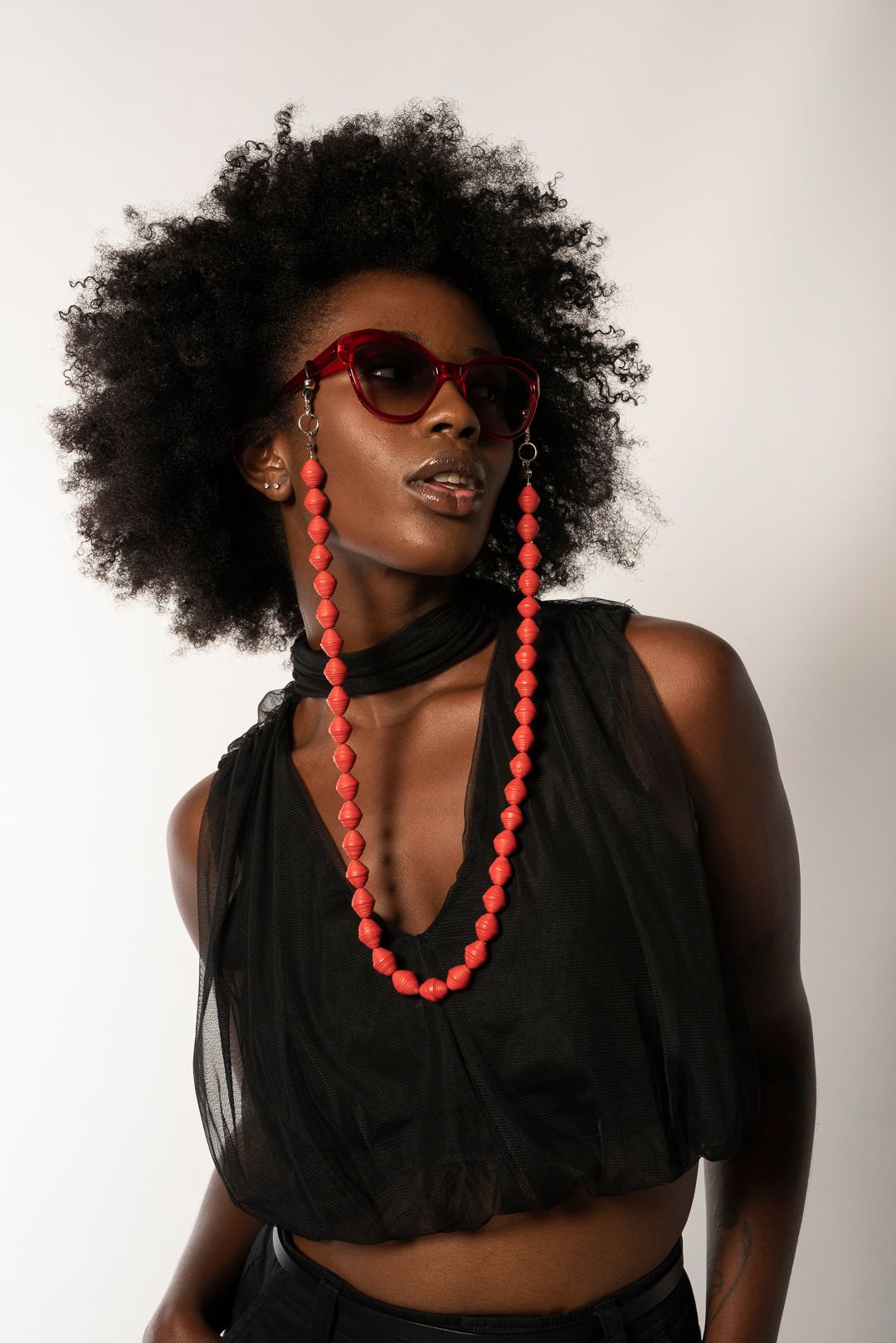 Global Eyewear Chain & Accessories Brand COTI Vision®️ announce their latest collab with Nigerian company Ilekeco.
On their journey to discover partners challenging current manufacturing methods and materials COTI Vision have partnered with Lagos based company Ilekeco to create their latest glasses chain. Made from recycled paper, each bead is hand rolled and hand painted, with no two beads ever being exactly the same. The collaboration on this single model would have used approximately 384 strips of hand rolled recycled paper.
Honouring skilled artisans who embrace eco-conscious practices in Nigeria, Coti's collaboration has furthermore embraced an opportunity to contribute to a dedicated relief fund established to improve the livelihood of the women involved in the project.
ILEKECO Story
Designer Anthony Uche Nsofor was fond of making things out of paper since he was a child. From converting a discarded sugar box into a table soccer post to making kites and origami jets, his resourcefulness and imagination had endless potential. Having completed a degree in chemical engineering and taking charge of the family glass bead import business, his passion for creative work was rekindled when he chanced upon an article about paper jewellery. This made him think about the paper creations he made from childhood to his own pile of garbage including parking tickets, grocery receipts, and random paper products, and how he could convert them into something useful.
Sustainability + Art
Ilekeco transforms waste materials into valuable wearable art. Its name came from "ileke," which literally means bead. It is a native Nigerian word that defines something of great value. This is a homage to Anthony's heritage wherein his vision is to tell great African stories through his works. Anthony wants to use his works to awaken the interest in recycling waste across Africa, especially his country where recycling barely exists. Lagos state, Nigeria's biggest commercial city, has a population of 20 million people and generates well over 10,000 metric tons of waste every day. Paper, of course, makes up a substantial part of it. Unfortunately, most of it gets burned, contributing to air pollution. With this, Anthony finds innovative ways to upcycle waste paper. He turned them into one of a kind handcrafted product such as earrings, necklaces, bracelets and now also
Glasses Chains
Anthony's designs are hand rolled into detailed pieces that result in a piece of wearable art. He is constantly exploring new ideas and inspirations. He wants to create pieces that uphold the essence and excellence of Africa, highlighting the traditions and intelligent hands of their people
COTI's co-founders Julie Hawkins and Nancy Gries state, "We have partnered with Ilekeco because of their passion to create something completely fashionable out of everyday waste. It has been an opportunity to create a relationship with a new supplier, from a really unassuming country, and for them to take our ideas and combine it with their native art to create the most fabulous glasses chains which are absolutely unique and full of character. It's the sustainable fashion element and the ability to contribute to women in Nigeria that has made this project so important for us"
Ilekeco owner Anthony added, " We are grateful to COTI for the opportunity to change people's perception of waste by upcycling. Making art from waste is our way of solving environmental problems. With such efforts, more consumers will become aware of what's happening and this will make them rethink about the waste that has been generated through fast fashion."
The Ikekco chain is available in 4 colours, with each colour given an African name which are plant based Dika/green (African wild mango) Green, Ako /Red (a berry that is peppery and known for its medicinal properties), Ixia/Blue (an African corn lily plant with light blue flowers), and Eso for our Mixed colour model (a native Nigerian language for a variety of fruits).