03 Feb 2023
Virtualcare presents Oculera VR Visual Field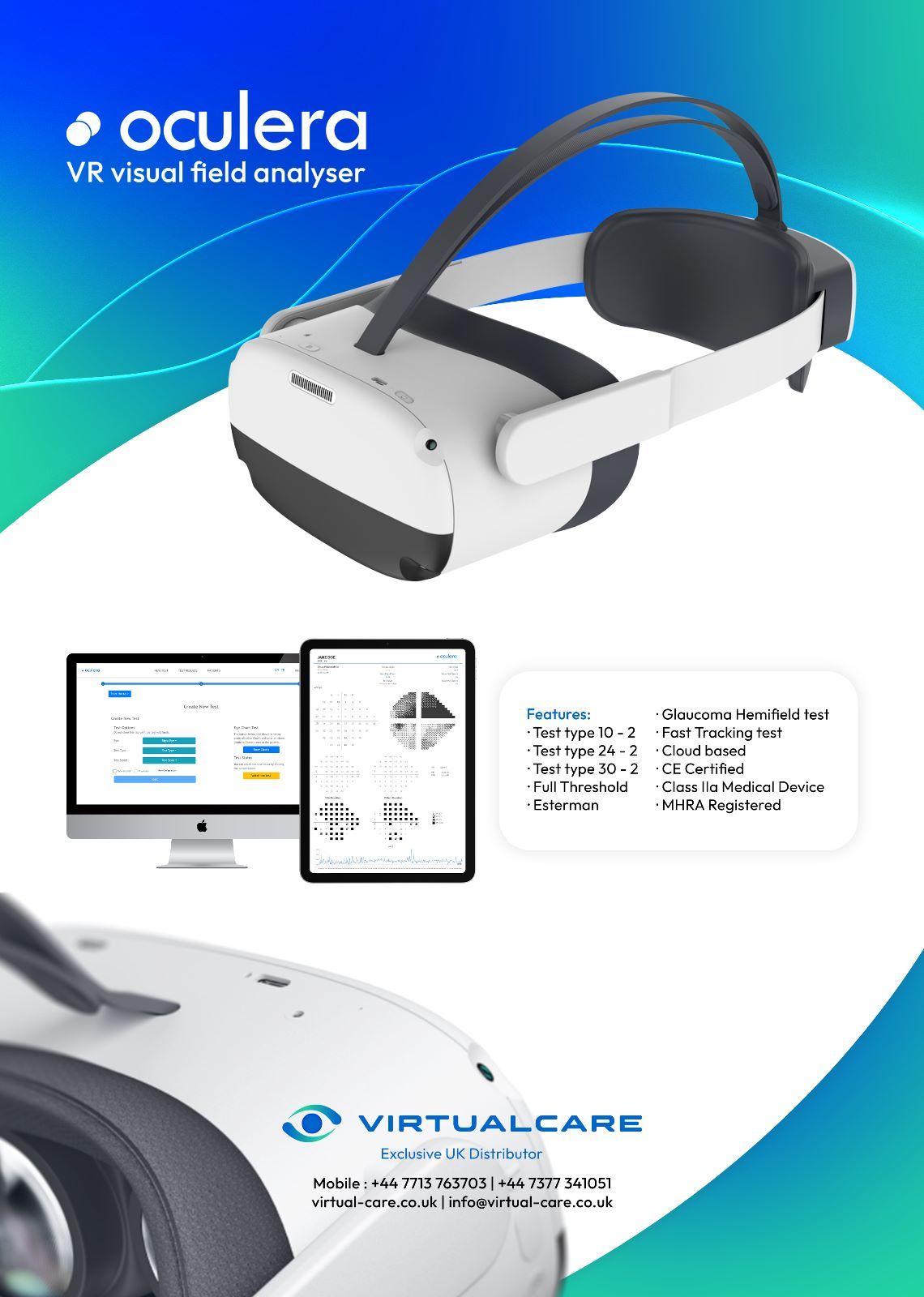 Virtualcare is delighted to present Oculera Visual Field Analyser.
The first and only CE Certified Class IIa Medical Device, MHRA registered Virtual Reality perimeter available in the UK.
This cutting-edge technology allows clinicians to save space, time and cost for their practice, improving efficiency and providing a better and more comfortable way to perform the test.
Thanks to the cloud-based system the test can be run anywhere with a phone, tablet, laptop, or PC.
The patient can comfortably undergo the test in a chair and doesn't have to sit forward with the head on a chin guard in an uncomfortable position. There is no need for a dark room or an eye patch. The lightweight VR headset makes it ideal for domiciliary visits and patients with mobility issues.
The eye tracking will provide a graphic on the test result showing the course of the gaze of the patient during the exam, will also pause the test if the patient loses focus on the fixation point and will start again automatically as soon as the fixation is back on the target.
The report can be printed or saved as a PDF. The clinician can monitor the test in real time and customise some parameters, like the time between each light stimuli, pause the test if needed or end the test if the fixation loss exceeds the test validity percentage.
Please find below a list of the main features.
• Eye Tracking
• 10 - 2, 24 - 2, 30 - 2 Test
• Full Threshold
• Glaucoma Hemifield Test
• Esterman Test
• Oculera Interactive (based on sita standard)
• Fast tracking test
• Cloud based
• GDPR compliant
If you'd like to organise a demo at your practice, do not hesitate to send us an email at info@virtual-care.co.uk or call us at +44 (0)7713 763703
UK exclusive distributor: Virtual-care.co.uk
Software developer:
oculera.health
https://cloud.3dissue.net/30176/30071/30343/86730/index.html?EYEFM23=&utm_source=FM23+Edition&utm_medium=Website&utm_campaign=FM23+Eye+News